Dreambirth on facebook!
Copyright © 2010 Helena Hentz
Hypnobirth in Perth
Doula care in Perth
Infant baby massage in Perth
Imagine a love so strong it made saying hello and goodbye in the same day worth all the pain…"
Bereavement doula support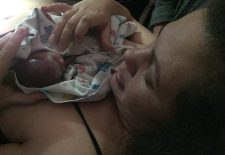 "Dear Helena, we can't thank you enough for the love and support you have provided us. You are truly an angel, sent to help women and their families during the most spiritual and rewarding times of their lives, helping to bring new life into this world and let go of lives that can't stay here. Thank you for helping us bring Byron into this world peacefully. Our extended family is so very grateful of what you do. Thank u for sharing such a beautiful woman with us. Our hearts feel much warmer knowing that our little boy had Helena to welcome him in and farewell him. With lots of love... "
Megan & Gareth, Parents of angel baby Byron (born peacefully at 22 weeks – May 2019)